ACS Diagnostics Laboratory
The ACS Diagnostics Laboratory Provides Monitoring of Every Second, Every Minute of Every Day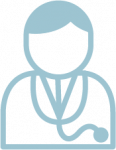 Every near-live beat transmitted to a lab is monitored by certified lab technicians.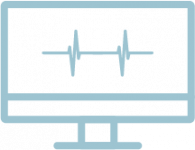 Order a device and authorize a test directly through the ACSD4U.com laboratory.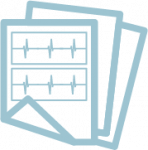 Every patient's heart beat of every day can be viewed through our full-disclosure option.
Our Laboratory Process
It's as simple as 1 2 3!
The CORE12 Device is designed to send patient ECG transmissions directly to our secured IDTF Laboratory for near-real-time clinical review.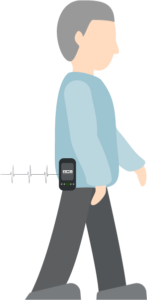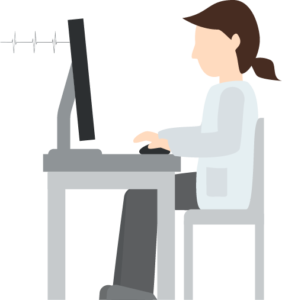 Our Cardiac Lab Technicians review all patient transmissions. STAT, Daily, and Full Disclosure report generation is available for physician review.
Clinicians can access reports and enroll patients via the ACSD Lab portal in the "Customer Portal" tab on acsd4u.com.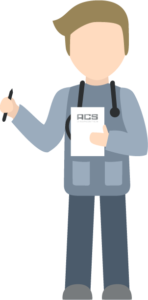 Cardiac Outpatient Real Time ECG Device
ACSD's Cardiac Outpatient Real-time ECG ("CORE") device provides patients with an "all-in-one" device that does all four modalities in one single device. The CORE12 device has a built-in cellular module that eliminates the need for gateway devices (cell phone). Two (2) channels of ECG continuously transmit real-time ECG data to a certified IDTF laboratory where all our patients are monitored 24 hours a day, 7 days a week. ACS Diagnostics is the only out-patient monitoring lab that monitors every beat of every patient, every minute of every day. 
Excelling in Customer Care
ACS Diagnostics cares for the ever changing needs of our customers including, remote monitoring by our 24/7 certified cardiac technicians, from hospital to solo practitioners. ACSD is the solution for all your cardiac monitoring needs. Whether using our monitoring services or your own "in-house" system, ACS Diagnostics provides the hardware and the software to both your practice and directly to your patients.
A Valuable Tool for Research Studies
The CORE 12, in addition to outpatient telemetry, can perform a 12-Lead interpretive EKG, a Holter (1-30 Days), an Event (1-30 Days) and real-time Telemetry Monitoring. The CORE 12 is ideal for research studies. Our CORE 12 EKG mode is the only outpatient 12-lead EKG that has integrated cell phone technology. Today, patients suspected or diagnosed with COVID-19 can be remotely monitored via CORE 12 device, minimizing staff/ patient exposure.
Start Using Our Lab Today
(949) 900-6643
Get in touch with us to start reaping the benefits of the ACS Diagnostics Laboratory!
Partnering with Research Labs
Why CROs Choose ACS Diagnostics for Their Cardiac Research
ACS Diagnostics is a company that is unique within the cardiac industry. We do not depend on out-of-country services, but instead, engineer our own devices and laboratory technology. Any reports we send to you are received and produced in-house.
Protocol, data collection and device information are just a few of the services we can assist you with. Review the following list to get an idea of the services we offer. If any interest you, fill out the form below to let us know!
Product Research Selection and Development
Software Research and Development
Protocol assistance
Inclusion/Exclusion advice for real world enrollment solutions
Clinical Monitoring, End points, safety evaluations
Pharmaceutical outcomes analysis
Physician Enrollment Services
Preparation of Clinical Study Reports
Investigator Brochures
Website development / content management
Social media management
Recruitment strategies that work
Medical Monitoring and Safety reporting
Site selection advising and training